Web Artists to watch out for – The Web Philippines
February 2, 2000
Web artists to watch out for
Originally published in The Web Philippines magazine's January/February 2000 issue.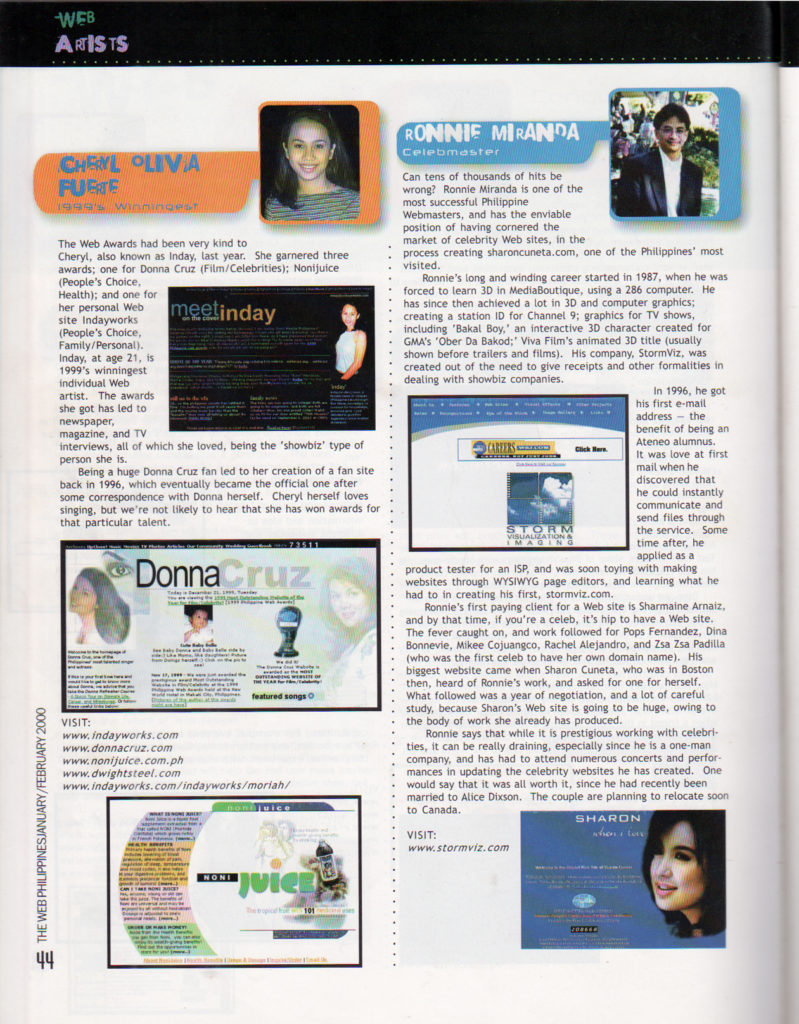 Cheryl Oliva Fuerte
1999's Winningest
The Web Awards had been very kind to Cheryl, also known as Inday, last year. She garnered three awards; one for Donna Cruz (Film/Celebrities); Nonijuice (People's Choice, Health); and one for her personal website Indayworks (People's Choice, Family/Personal). Inday, at age 21, is 1999's winningest individual web artist. The awards she got has led to newspaper, magazine, and TV interviews, all of which she loved, being the 'showbiz' type of person she is.
Being a huge Donna Cruz fan led to her creation of a fan site back in 1996, which eventually became the official one after some correspondence with Donna herself. Cheryl herself loves singing, but we're not likely to hear that she has won awards for that particular talent.
Ronnie Miranda
Celebmaster
Can tens of thousands of hits be wrong? Ronnie Miranda is one of the most successful Philippine Webmasteres, and has the enviable position of having cornered the market of celebrity Web sites, in the process of creating sharoncuneta.com, one of the Philippines' most visited.
Ronnie's long and winding career started in 1987, when he was forced to learn 3D in MediaBoutique using a 286 computer. He has since then achieved a lot in 3D and computer graphics; creating a station ID for Channel 9; graphics for TV shows, including 'Bakal Boy,' an interactive 3D character created for GMA's 'Ober da Bakod;' Viva Film's animated 3D title (usually shown before trailers and films). His company, StormViz, was created out of the need to give receipts and other formalities in dealing with showbiz companies.
In 1996 he got his first e-mail address- the benefit of being an Ateneo alumnus. It was love at first mail when he discovered that he could instantly communicate and send files through the service. Some time after, he applied as a product tester for an ISP, and was soon toying with making websites through WYSIWYG page editors, and learning what he had to in creating his first, stormviz.com.
Ronnie's first paying client for a Web site is Sharmaine Arnaiz, and by that time, if you're a celeb, it's hip to have a Web site. The fever caught on, and work followed for Pops Fernandez, Dina Bonnevie, Mikee Cojuango, Rachel Alejandro, and Zsa Zsa Padilla (who was the first celeb to have her own domain name). His biggest website came when Sharon Cuneta, who was in Boston then, heard of Ronnie's work, and asked for one for herself. What followed was a year of negotiation, and a lot of careful study, because Sharon's Web site is going to be huge, owing to the body of work she already produced.
Ronnie says that while it is prestigious working with celebrities, it can be really draining, especially he is a one-man company, and has to attend numerous concerts and performances in updating the celebrity websites he has created. One would say it was all worth it, since he had recently been married to Alice Dixson. The couple are planning to relocate soon to Canada.
Ronald Guanzon
Putting Rizal on the Web
One of the 1998's most winningest artists in (Philippine) Webby Awards, having won two People's Choice Awards; one for Radio 1 On-line and one for WebCafe Philippines. Ronads was also very visible in 1999, with his creation of the website for GMA Film's "Jose Rizal: The Movie." His work on the Rizal site has garnered recognition for him in the US, with his name included on every piece of promotion that the movie had there.
Ronald started working on websites as a hardcore HTML coder, using notepad, way back in 1996, and hassince amassed a body of work that includes GMA, Manila Game Dancers, Jose Rizal, Jamie Rivera, and 93.9 WKC. He says that he listens to a type of music that will inspire him in creating a particular Web site, and has related that he listed to (gasp) the Titanic soudtrack while making the Jose Rizal: The Movie Web site. Celine Dion really is that powerful, huh?
Like many artists, Rnald prefers to work in the afternoon and until the wee hours of the morning. He has an interesting pastime in dancing and admits to doing it on the Dance Revolution Arcade Machine. Yes, the machine where you perform your grooves in public while trying to achieve a decent score.
I think we'd prefer to look at your web sites only, RG– no offense to your dancing, of course.
Lorrain Barte
The Rant of the Land
This English literature major has gotten a lot of attention due to the rantings that she has on her personal Web site, Lorraine Land. In 1998, the site had been featured prominently in the webzine chickclick.com and a US TV show. The wit and humour that she displays on the site is inspiration for the content-challenged Webmaster, and in its simplicitie lies more power than the most graphic-heavy sites.
Besides being the Creative Director of Cyberspace Management and Solutions, Lorrain is also an editor for local glossies Lifestyle Asia and Beautiful Bride. She had been a Web Awards finalist thrice, for Lorrain Land (Personal – 98), PEZA (Government – 98), and Boracay Online (Travel, 99).
What is the future of Web design? "Web users are asking for more and more everyday – no longer satisfied with a 'pretty' page with bells and whistles, they're looking for more content and interactivity on the Web. We Web designers will have to learn to manage Web content and production in smarter ways." "We'll also be seeing more convergence of traditional and non-traditional media: tv, radio and print media won't disappear because of the web, they'll be enhanced by the latter, and vice-versa."