The 2nd Philippine Web Awards Judges
November 6, 1999
The 2nd Philippine Web Awards will be held on November 17, 1999 at the New World Hotel Grand Ballroom in Makati, Philippines.
Meet the Judges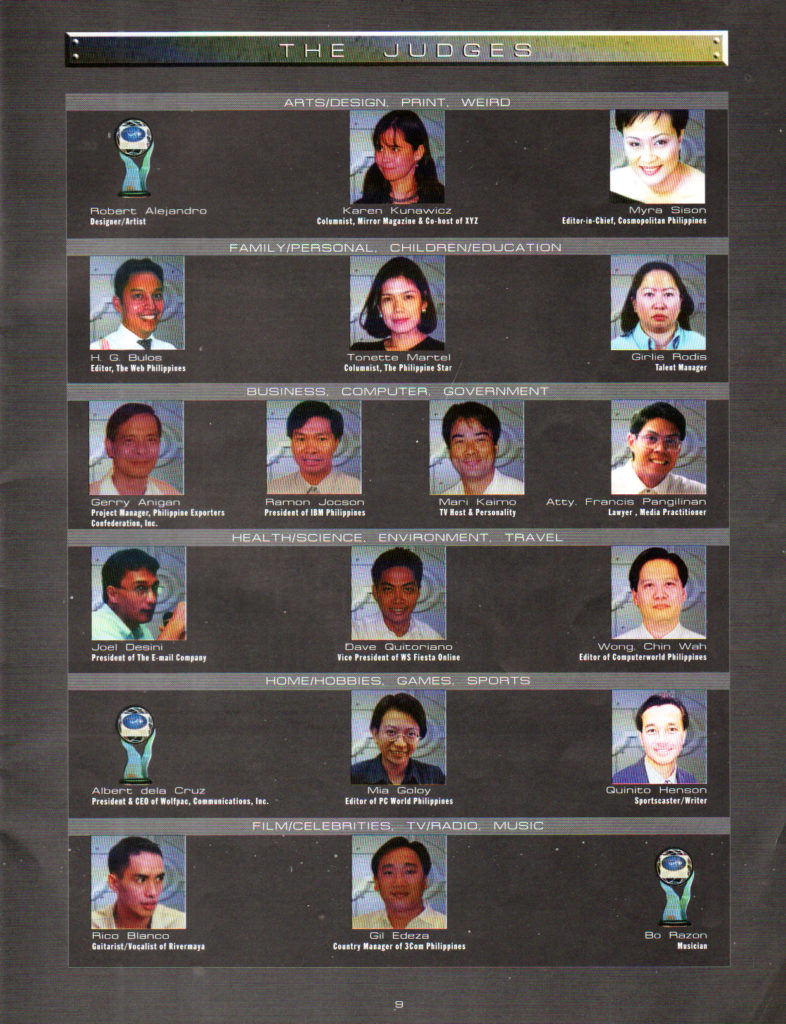 Arts and Design, Print and Weird categories
– Robert Alejandro, columnist
– Karen Kunawicz, TV host
– Myrza Sison, Cosmopolitan Philippines editor in chief
Business, Computer and Government categories
– Gerry Anigan, project manager of Philippine Exporters Confederation, Inc.,
– Ramon Jocson, IBM Philippines president
– Mari Kaimo – host, newscaster
– Atty. Francis Pangilinan, celebrity lawyer
Family/Personal and Children/Education categories
– Heinz Bulos, The Web Philippines editor,
– Tonette Martel, columnist and
– Girlie Rodis, talent manager
Film/Celebrities, TV/Radio and Music
Rico Blanco, guitarist/vocalist of River Maya
Gil Edeza, country manager of 3Com Philippines
Bo Razon, musician
Health/Science, Environment, Travel
– Joel Desini, president of the E-mail Company,
– Dave Quitoriano, vice president of WS Fiesta Online
– Wong, Chin Wah, editor of Computer World Philippines
Home/Hobbies, Games and Sports
Albert dela Cruz, president and CEO of Wolfpac, Communications, Inc.
Mia Goloy, editor of PC World
Quinito Henson, sportscaster/writer
---
The URL of the 2nd Philippine Webby Awards is www.philippinewebawards.com. Visit the Internet Archive to see the original pages.
---