Post-Philippine Web Awards Supplement: Sites to behold
December 27, 2001
Originally published in the Computerworld Philippines/The Web in their post-2001 Philippine Web Awards supplement.
Post-Philippine Web Awards Supplement:
Sites to behold
THERE is a reason why artists call it vision.
Its Latin root, visio, literally means "seeing," while its modern incarnation conveys something quite different. Vision, in our time, entails looking into the future.
The 4th Philipine Web Awards recognize not only the country's finest talents in Web design, but also showcase the relentless advances in computing technology. Below are some of the highest-rated sites this year. Some have already made their marks for posterity, while others are first-time winners.
Whatever the case these sites celebrate the future and form the shape of things to come.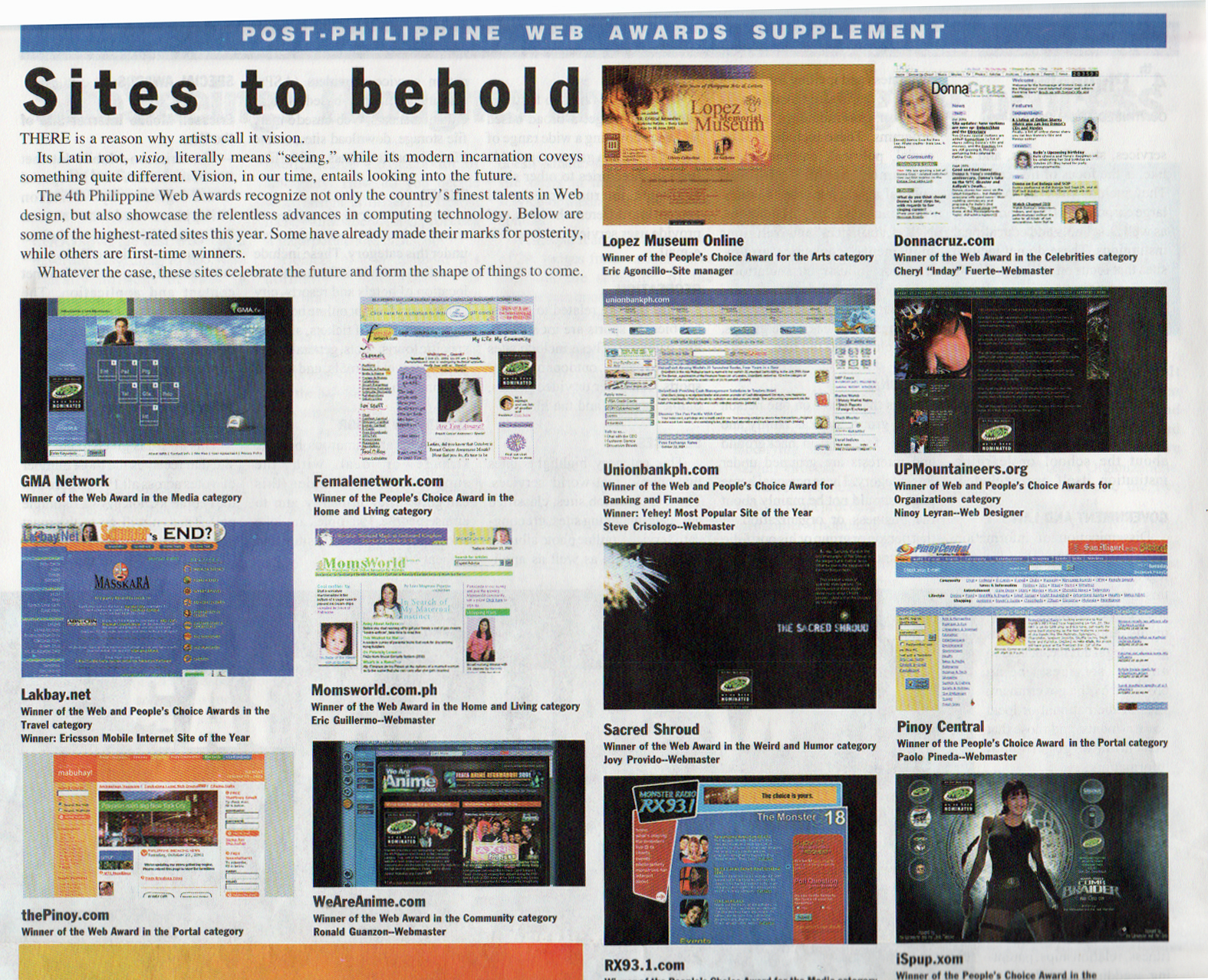 ---
Lopez Museum Online
Winner of the People's Choice Award for the Arts category
Eric Agoncillo— Site manager

---
DonnaCruz.com
Winner of the Web Award in the Celebrities category
Cheryl Fuerte "Inday" — Webmaster

---
GMA Network
Winner of the Web Award in the Media category

---
FemaleNetwork.com
Winner of the People's Choice Award in the Home and Living category

---
Unionbankph.com
Winner of the Web and People's Choice Award for Banking and Finance; Winner: Yehey! Most Popular Site of the Year
Steve Crisologo— Webmaster

---
UPMountaineers.org
Winner of the Web and People's Choice Award in the Organizations category

---
Lakbay.net
Winner of the Web and People's Choice Award in the Travel category; Winner: Ericsson Mobile Internet Site of the Year
---
Momsworld.com.ph
Winner of the Web Award in the Home and Living category
Eric Guillermo— Site manager

---
Sacred Shroud
Winner of the Web Award in the Weird and Humor category
Joey Provido— Site manager

---
Pinoy Central
Winner of the People's Choice Award in the Portal category
Paolo Pineda— Webmaster

---
thePinoy.com


---
WeAreAnime.com
Winner of the Web Award in the Community category
Ronald Guanzon– Webmaster
---
rx931.com
Ronald Guanzon– Webmaster

---
(missing data)

---